A friend asked me if I was planning to write a review of my year and, whilst I hadn't considered it myself, I thought it would be great to do and revisit it in a few years time.
Family
Families meeting. Originally planned for 2020, but delayed, mine and H's parents finally met for the first time this summer. I had a bit of anxiety about it, because personality wise they couldn't be more different. My parents are Lithuanian, quiet and reserved. H's - English, loud and social. However, everything turned out better than I expected. There were a lot of conversations, food sampling, and travelling. I managed to learn something new about a brewery in my hometown, and the weather was balmy 30+ degrees throughout.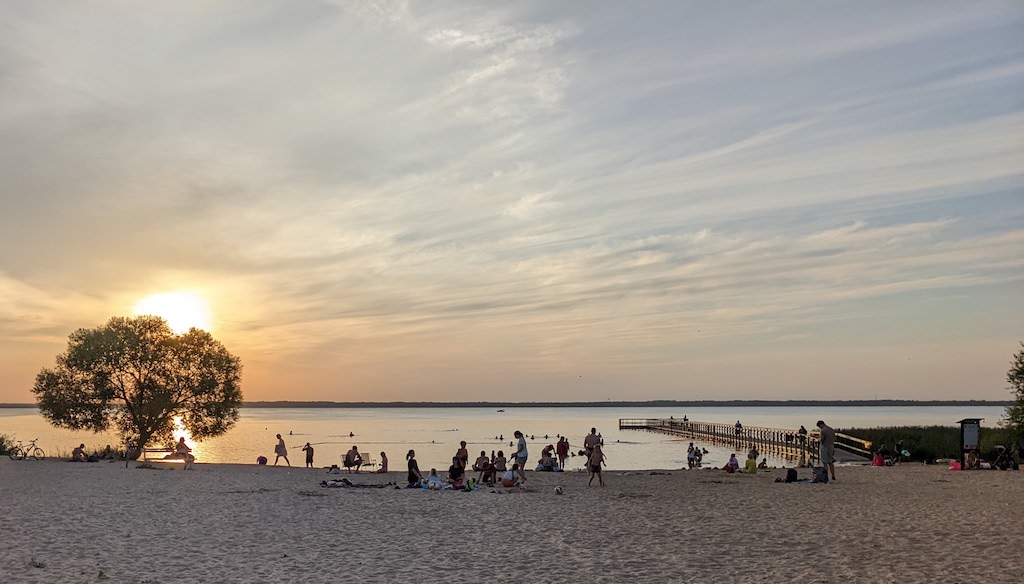 Museum Hits Hard. One of the places we visited with H's family in Vilnius was what the locals call the KGB museum, because it is located in the former KGB headquarters. You have to see the torture and killing chambers to understand the pains the Soviet occupation has caused, but that's not the point of this reflection. While walking through the exposition, I saw a piece my, now deceased, grandmother had gifted to the museum. A mosquito net she brought back from her exile in Siberia. I didn't know it was there. I did not expect to find it. And I cannot even begin to describe how hard it hit emotionally. Suddenly, the whole thing was 100 times more personal and I cried quietly in the corner.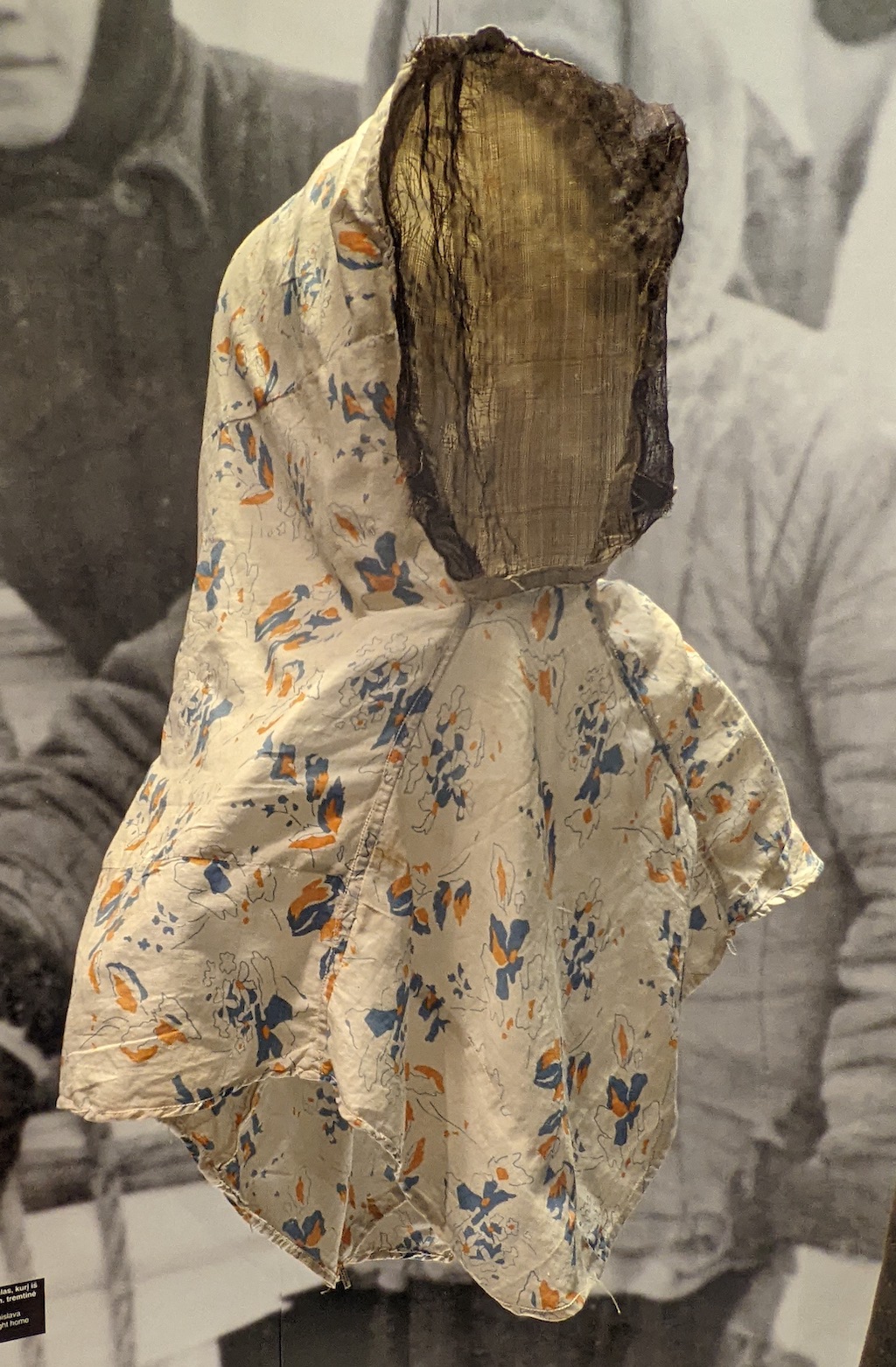 War. Even though I don't have relatives in Ukraine, the war still affected me in many ways. First, I am from the Baltics, and we have a turbulent history with Russia. I grew up reading and hearing up close stories about Soviet torture and cruelty during WWII. Reading about the same things happening in Ukraine in 2022 made it up-close-and-personal, and it was very clear who would be next if Ukraine fell. I donated 500 pounds in the first few weeks. Secondly, there was a lot of anxiety both for me and back home. I had a very hard time concentrating on work, but learned to handle it about a week later. I am still keeping up to date with the news daily, and sometimes find it unfathomable that someone would be willing to tell Ukrainians to suck it up and live under Russian rule. It doesn't work like that - the choice is between freedom and unimaginable cruelty. Through work I have met people from both Russia and Ukraine. No-one wants that conflict to spillover at work, so it does require compartmentalisation and non-judgement. Not easy.
Pets. 2022 marked my first ever full year of owning pets. H had guinea pigs, I grew up without any pets (well, except a fish tank). In September 2021 we bought a coop and got three pet chickens in our garden. Aside from getting eggs, I also learned a few new things. Hens are easy maintenance, high clucking return pets. Hen hotels are a place to drop off chickens when going for a long holiday. Hen x-rays are not worth the price. And, of course, hens had flockdowns, before it was cool.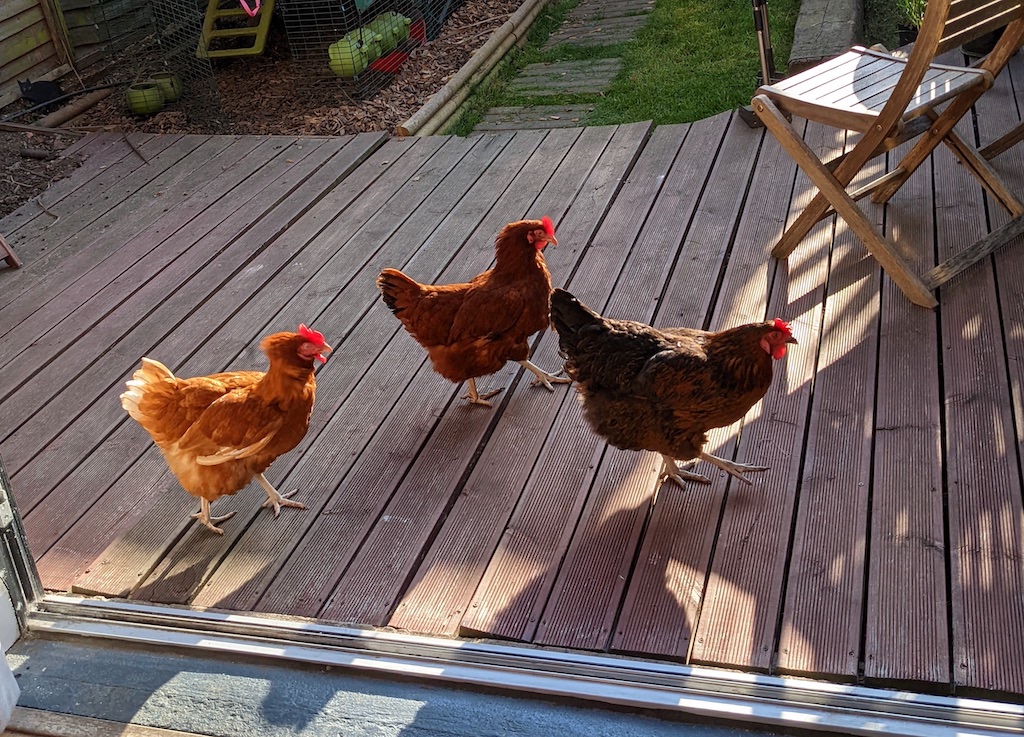 Hobbies & Projects
Piano. This year I completed my practical grade 1 exam with distinction. Considering I had zero musical training or talent before that, I am quite happy with the result and will continue to study for grade 2. Discussing with friends, it turns out I managed to avoid a discouraging piano teacher that put off a friend from studying further. I shall expand on this in a separate post.
Beer. After a long break, I brewed beer again with H and friends A and L. It is a delightful, if not a bit messy, activity. It can be quite cost effective too. Unfortunately, I had a bit of a health issue and it meant that we gave away most of the bottles as gifts.
Newsletter. I decided that I want to make it easier for people to find my tech related writing. I launched Code Anthropology at the end of July and I still don't know how to describe it: it does not have code examples, but I don't think it's engineering leadership advice either. It's a mix of learned truths (Everything is Negotiable, Moments of Invention) that I hope can help others. My most popular post was about noticing layoff signs, which I wrote because I saw layoffs happening in the industry, but also because I saw worrying signs at my own company. Ironically, I cannot claim I "predicted" the time accurately. It happened at my company sooner than I thought - in November.
Career
Full circle. Back in 2020 I joined Lyst with a goal to get feedback on and grow my leadership skills, thinking I'd like to move towards the engineering management track. I learned to lead a team, and also how to give feedback and sometimes have unpleasant but necessary conversations. As a team we solved a challenge other people tried to solve multiple times before, and I was very proud. But probably the most heartwarming piece of feedback was the one below. Knowing that just a few years ago I struggled with and lacked confidence in the leadership aspects of the job, it makes me thrilled to see the improvement.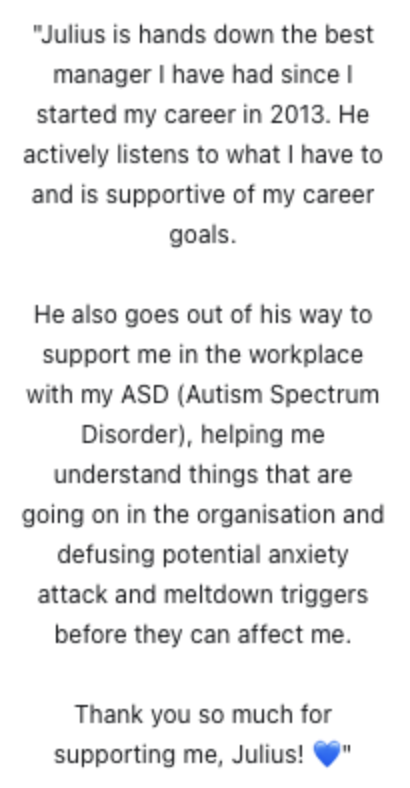 By the end of this year, my hands started itching to build stuff. A small burnout episode in October allowed me a short break to reevaluate priorities, and I made up my mind that I want to go back to being an individual contributor. Maybe Charity Majors had it right - the manager/IC track is a pendulum.
New Start. The above also led me to find a new job, where I will start in February. It is a much smaller startup, in an area that I hope to learn a lot (mortgages), and with a very friendly team that I have already had a chance to meet briefly. Not to mention working again with G who I enjoyed working with in the past.
Books
Turn The Ship Around and Orbiting A Giant Hairball are two books to which I attribute my recent success at work to. I found them through Sourcegraph's employee handbook. I love the product and wanted to understand what makes the company different (they're very open). The gist of the first book is that to allow people to be the leaders you want them to be you have to trust them and allow them to make decisions at their level of responsibility. This is in contrast to leadership directing the teams to execute on their decisions. The second book is a collection of stories about corporate culture dysfunctions and how to deal with them without sacrificing your soul. My one sentence summaries don't do justice.
Death Notice. An English translation of a chinese detective story, recommended by a friend who lived in Beijing for the last few years. The story is about a serial killer who always sends out a written notice letter to the victim, and manages to outsmart the police traps each time. It is not something I would've picked up myself in the book shop, but I think that fact made it better. The plot twists were great, some of the dialogues were a bit cringey, but my friend assured me that it was more due to cultural differences.
The Partisan. A book I noticed by complete chance in a bookshop in Durham, and a last copy they had on window display. It piqued my interest because 'partisan' is a word for Lithuanian WWII freedom fighters, people who tried to fight back against Soviet occupation until 1953. Most were caught and killed by the KGB, so it is not a surprise that Lithuanian novels about partisans always end in tragedies ("… and then they were captured and killed.") However… Author of 'The Partisan' is a British journalist. He did not inherit the collective mourning, but took creative liberty and turned the script into "what could the cold war have been if KGB didn't kill them all" And I can tell you, 'what could've been' in this book was a fantastic cold war spy thriller, with well paced action, very believable characters (including many Lithuanian idiosyncrasies), and entertaining throughout. No pressure, but after this debut I hope the author will write a sequel.
Travel
Paris. Fun fact, I studied French for 6 months in 2015, but have not been to France. It has been a running joke that I should visit and order a baguette, to get my return on investment. Well I finally visited this year and ordered not only a baguette, but two crepes too. I managed to avoid the Paris syndrome, visited some tourist traps and did aimless wandering through the streets with H stopping for coffees or wine and cheese.
Cumbria Way. Ever since I've walked the Great Glen Way, I've been a fan of multi-day hikes. The Cumbria Way is in the Lake District. It was another delayed trip from 2020, and the first one together with H. Apart from the stunning views, the highlight was learning what part-baked rolls are and going, like some criminal, to a random pub bar in the middle of nowhere and whispering "Hey, do you think your kitchen could bake these for me?" Luckily, they were friendly enough to do that, and we got our lunch for the next day sorted.
Scotland. Scotland is my favourite place in the UK. I have visited the Highlands a couple of times, but I have never been to Edinburgh. Last year one of our friends moved there so it was a good time to visit. I have to say I loved the city, the views from Arthur's seat and how close the sea was, but my heart is still in the Highlands, which we visited towards the end of the year, as H's former colleague has moved to a small place near Oban. We stayed in their parents house, with a bedroom overlooking the mountains. I dream we could live there too. However, dipping into a loch in October and then clawing myself back on a coarse pier asphalt is not the most enjoyable experience.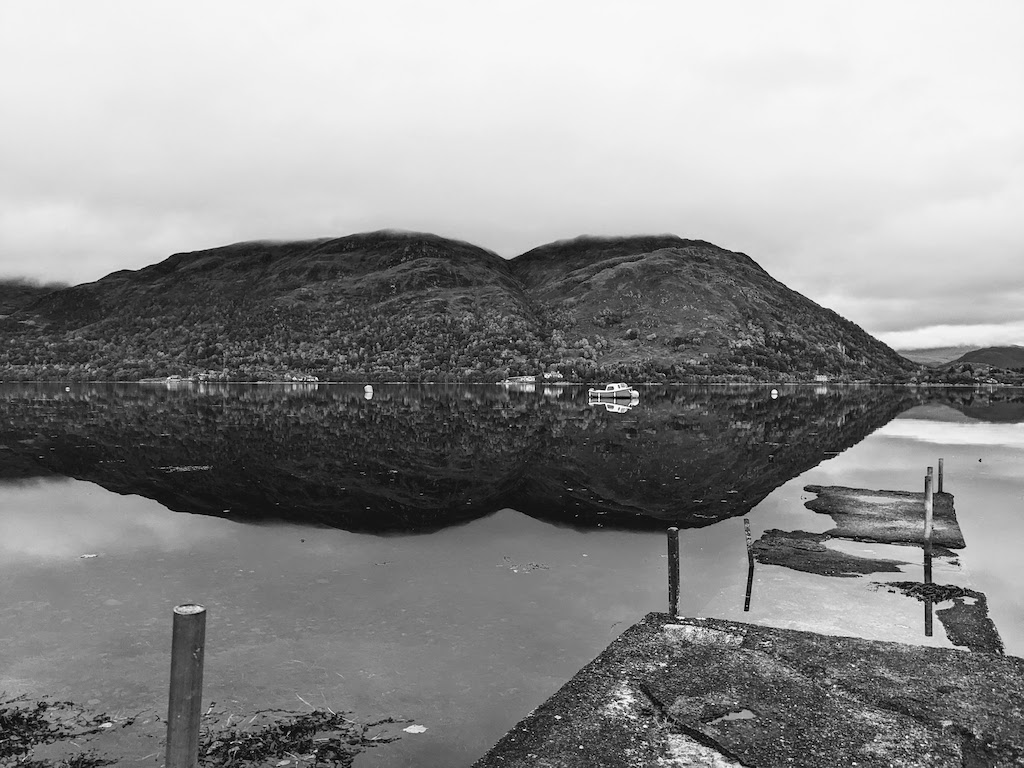 Sports
Personal Achievements. First, I reached my 25th Parkrun milestone, and did 17 parkruns in total. That's about one third of Saturdays this year. Second, I also ran in the "world famous" 10k run, which gives you a Christmas pudding at the end of the run. Third, I dipped into the sea in January. It must've been freezing cold, and my brain has blocked those memories. Knowing myself, I probably complained a lot about the cold.
Cricket. I saw my first live cricket match at Lord's in London. Interestingly, for the lack of action that's happening on the pitch, the match turned into a nailbiter in the last 5 minutes. It was a fun experience, but I did not become a big fan after it.
Gigs
Idlewild. A rock band from H's teenage years.
MEUTE. A strangely intriguing brass techno band from Germany H heard before.
John Legend. I have always been a fan of his lyrical songs, but now I also know that he is adorably cheesy.
Adele at BST Hyde Park. I can tell you that walking on stage while sipping from a tea mug is a proper flex.
What's Next
I don't have concrete goals, they always slip through the cracks anyways, but there are a couple of things I am excited about. Me and H will go on a three week trip to Vancouver next year. I would like to do my piano Grade 2 exam. And I would also like to try and sell something online. I am not yet sure what that will be, but have plenty of notes with ideas.